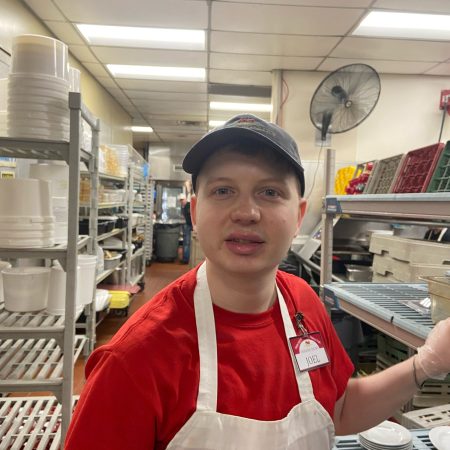 Joel likes to stock shelves. Specifically, he wants things to be in their place. As his mom, Kay, says, "He is passionate about things being in order." She chuckles fondly as she relays this to me over the phone; when Joel comes home from work, he immediately starts cleaning up and putting dishes and anything on the counter where they belong. Everything has a place. It is this passion that has motivated Joel in his employment search.
Joel started receiving Supported Employment Services in early 2020. At that time, he was quickly placed with a local employer with the help of his employment specialist. His first job was seasonal and included wiping down carts at the height of the COVID-19 pandemic. After the season work ended, he progressed to another local employer, where he was retrieving shopping carts, stocking shelves, and cleaning the store. Through some tough conversations, he also learned that some employers are unaware of how to speak to and support an employee with his type of needs. With the support of his mom and employment specialist, Joel quit that job and started applying for jobs elsewhere. 
Fast forward to 2023, and Joel is employed as a dish room attendant at Oregon Dairy. Although he isn't fulfilling his passion yet, he is in the midst of tremendous personal and professional growth.
As his mother, Kay, says, "Since getting his job at Oregon Dairy, I've seen a lot of change in Joel. He's maturing and is taking more responsibility. Before, Joel struggled with leaving for work on time because of his OCD; over the course of a year, with encouragement and prompting, he's learned now to let things go and get out the door on time."
Now, Joel gets ready for work the night before, making his lunch ahead of time so the mornings are less hectic and not fast-paced or rushed. This is another thing he's learned in his experience at Oregon Dairy: he prefers less rushed environments when he works. Another motivation to keep looking for a job stocking.
His positive work environment at Oregon Dairy is another factor in his growth. As an employer, Oregon Dairy makes every effort to meet Joel where he is, treating him with respect and allowing his employment specialist to support him when he decides he may need more support in accomplishing his job. This has contributed greatly to his personal growth because even though he's not doing something he's passionate about, he is gaining important work experience.
Their decision to hire Joel has been good because he has proven himself a valued employee, only missing a few days of work in his entire time employed thus far due to illness.  
"A person with autism might learn their job at a different pace. It may take them more time, but they eventually get it. And they usually become dependable workers because they're grateful to have a job," says Joel's mom. 
Some employers, like Oregon Dairy, understand this and work with their employees, helping them thrive. They recognize the invisible abilities employees with autism possess. 
Like all of us, Joel is still on his journey toward finding a job that helps him utilize his passion. Is he there yet? No, but he is well on his way to finding his desired job in stocking in a less rushed setting and has the motivation and support to get there.