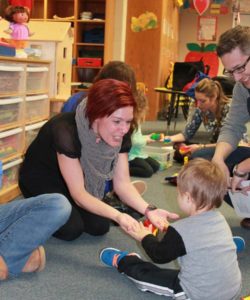 When music casts is magical spell on us, it can impact our feelings, make us have fun, trigger memories, and it can facilitate language development. The power of music is well-documented and well understood by those who have experienced it.
In my experience as a speech language pathologist, I have seen the positive impacts of music in all aspects of my career. From infancy to elderly, music is powerful.  I have further proof of this having been privileged to work in one of Excentia's preschool classrooms. We have the great honor of working with Certified Music Therapist, Katie Eshelman, over the past few years.  And because of the obvious benefits of music, I implement it in my therapy and coaching with families daily.  Below I will share a few ideas for how music can be used to support communication development.
1. Fun:
One reason why music works for learning, is because it's fun. There are affordable resources available such as youtube.com or Pandora Radio.  You can have fun with your child by watching videos on youtube.com or listening to music together. This removes you from the demand of teaching your child, and enables you to create fun, silly, dancing, sound-making memories with your little one… who will most likely learn to request or remember parts of the song because they will have so much fun doing the activity with you.
Pandora Stations to create for children: Raffi, Toddler, Family Road Trip.
Youtube videos to watch together: Laurie Berkner Band, The Wiggles, Barney songs, movie clips from a favorite movie (I have watched the Frozen song video for "Let it Go" with many families!), or any band or song your child seems to like.
2. Repetition:
Repetition facilitates learning, and repetition is much more fun in the context of song! Use song to repeat ideas and build vocabulary.
Sing the same sound or word repeatedly to the tune of a familiar song. (i.e. To the Tune of B-I-N-G-O sing- "Sarah puts her jacket on, she puts her jacket on, jacket on on on, jacket on on on, jacket on on on and now her jacket's on!")
Sing repetitive songs (Old McDonald, 5 Little Monkeys Jumping on the Bed, etc).
Make a song up using 1 or 2 words to whatever tune you want!
3. Gestures:
Pairing movements with song/sound can often help facilitate sounds more easily, make the use of sounds more fun, and increase the child's attention to the words/sounds. Use of gestures is also helpful for children already using or learning sign language. Singing songs that incorporate gestures is a great way to develop these skills.
Songs that are easily paired with gestures include: Twinkle Twinkle Little Star, Itsy Bitsy Spider, Head Shoulders Knees Toes, Wheels on the Bus.
4. During routines:
Singing about what we are doing throughout the day makes learning the narratives and vocabulary of our routines more exciting. Any routine can be made into a song.
Bed time, bath time, waking up, potty, washing hands, etc. (Again, use words to the tune of a familiar song, or make a song up!)
5. Sentence Completion:
You can help your child increase their independent ability to produce words and sounds by using a "sentence completion" approach with repetitive songs.  The steps for using this approach are as follows:
Sing a familiar and enjoyable song with your little one enough times that you become confident that they have learned it.
Continue to sing the song with them, but begin to implement an occasional pause at a familiar part that you know your child likes. (I.e. "The Itsy Bitsy Spider went up the water spout, down came the rain and washed the spider __pause___")
Look at the child with an expectant, excited face… and wait.
If they do not respond, you can model the correct word "OUT" with over emphasis and exaggeration.
And try again. Eventually, your child may learn to complete the sentence on their own!
Hopefully, you will find some of these ideas helpful and maybe even find that you will also have fun in the process of using music to help children with communication development!