Tis the season to give back! Every year when Christmas time rolls around I always find small ways to give back to my community. One year my family participated in an "adopt a family" for for the holidays where we got a wishlist from the family and headed out to stores like walmart and target for items. Another common way to give back to schools. Many times people donate books to kids at bookstores which is so easy when you are checking out. This year though I'm asking that you think about Excentia's S. June Smith Center when you decide who you want to give back to, big or small.
If you aren't already familiar with Excentia's S. June Smith Center we provide Early childhood and early intervention services to help children, from birth to five, who are experiencing developmental delays or disabilities. While we don't believe that growth and development occurs on a strict timetable, we do strive to provide our parents and caregivers with a proactive approach to ensure that their children are put on a healthy path of development. We have a collaborative approach and we work with the individuals involved in a child's life that could enhance a child's development, such as the family, caregivers, teachers, other support providers and members of the community.
One way for you to give back is to use Amazon Smile. Amazon Smile is a service that Amazon offers where you can link up your Amazon account with Excentia's S. June Smith Center and .05% of every purchase you make is donated directly. So if you are already buying Christmas presents or your monthly order of toilet paper for your house you are giving back without having to put any effort forward. I have provided directions below on how to link up your accounts below.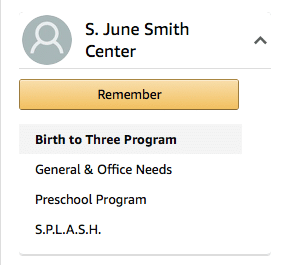 Choose SJSC as your charitable organization:
Sign into

www.smile.amazon.com

on your desktop or mobile phone browser.

From your desktop, go to Your Account from the navigation at the top of any page, then select the option to Change your Charity. Or, from your mobile browser, select Change your Charity from the options at the bottom of the page.

Select

S. June Smith Center a Service of Excentia

and get to shopping!

You can also follow the link below to a wishlist that the teachers at the preschools have added items that are in high demand for their classrooms. I have an example of the types of items on the list to the left.
https://www.amazon.com/gp/registry/wishlist/1HHSRY6OLNHXI/ref=cm_sw_su_w
Another way to give back is to hop in your car and head out to a few stores for gift cards. Susan Oberholtzer, Preschool Special Education Teacher and Associate Director of Preschool Services at Excentia was kind enough to suggest a few items that you can donate directly to a preschool. Those items being Gift Cards! In particular gift cards to Target, AC Moore and/or Michaels are great because a lot of classroom materials are purchased throughout the year at these three stores. She also suggests iTunes gift cards because they are "used to add educational apps for the children to use during guided centers in the classroom as well as to add circle time songs."
Get in the give back spirit and help keep the classrooms at Excentia's S. June Smith Center stocked and running by donating today!
ALAM,
Lexis