With the current political climate at a constant rolling boil, the morning news can be a pretty depressing start to the day. Mix that in with local stories of a fire or an arrest and you can start to think that we are doing it all wrong.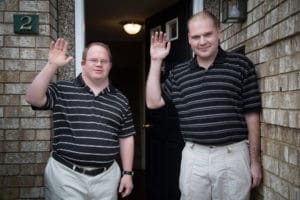 But there are two gentlemen that I've recently had the privilege to meet, who have restored my faith in humanity. Bret and Ryan are the first Lancastrians to enter into a program called TRAIL offered by Excentia. They are learning all of the basic life skills and practices to live independently as employed adults in Lancaster- despite the obstacles and challenges life has dealt them.
I got to catch up with them at their house to talk to them about their progress and to witness their preparations for a dinner party they were throwing for their families. They were making a spaghetti dinner, complete with homemade meatballs, salad, and garlic bread. Smiles were abundant that day and you could see that both of these fine men were confident and making great strides towards their goals of independence.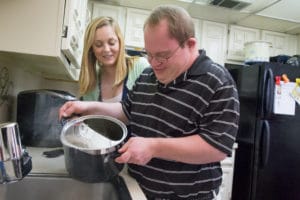 In my next conversation with Elizabeth Ortiz, the program instructor for TRAIL, she excitedly shared with me that Ryan and Bret would like to throw another dinner party. This time, they wanted to offer their cooking and host skills up to the community and they wanted to do it to benefit the S. June Smith Center. May 18th Excentia's S. June Smith Center held the Sips, Sweets, & Supports Event at Tellus 360- there were eight auction items that evening- a private yoga session, Phillies tickets, private cooking lessons with a local chef- all brought in great money. When all the bidding was completed, one local auction item shone brighter than the others.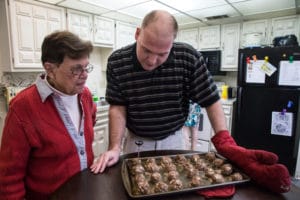 Bret and Ryan's offer of a home-cooked spaghetti and meatball diner brought in $1,000 for Excentia's S. June Smith Center. These two gentlemen, who are working so hard to make strides in their own lives, found the time and the desire to help others in their community. They are giving of themselves without hesitation, without direction or prodding, without question of what they will get in return.
The next time that you are feeling that the world around you is full of sadness, corruption, or dishonesty- I would urge you to think of Ryan and Bret. Follow their example and their spirit and be the change you want to see in our community.